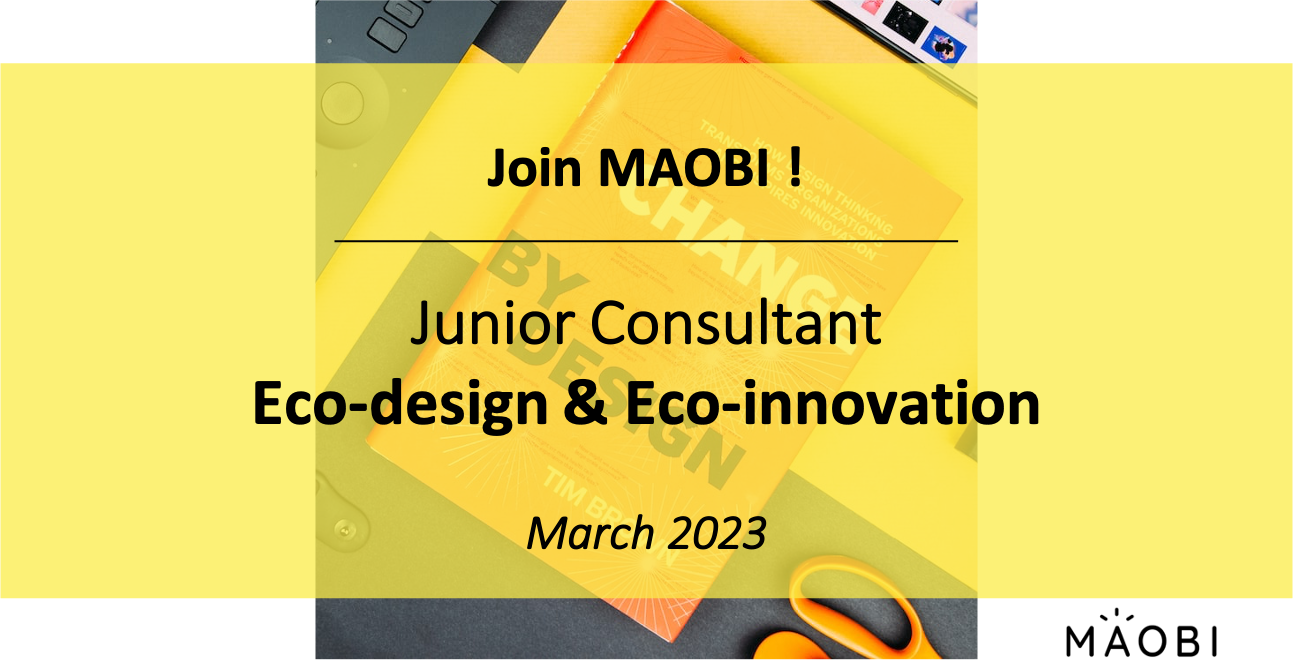 Eco-design & eco-innovation : in 2023, join MAOBI sustainable innovation agency as a junior consultant !
Eco-innovation and Eco-design junior consultant
Location: Lyon
Reference: S00MAR20232EC
You are convinced that environmental transition is a driver for growth for companies?
Join our team to work on eco-design and innovation projects. During your internship, you will be trained in innovation, eco-design and life cycle analysis methods.
---
Your profile
In your last or gap year engineering school student (or equivalent academic background), you are looking for a 6 month-internship starting as from February or March 2023. You are fluent in French and English. You have an extensive knowledge of .xls.
Above hard skills, we value the following soft skills and personal qualities:
Curiosity and a thirst for learning
Analytical and synthetical mind
Customer service sense
Interest in environmental issues and scientific curiosity about it
Interest in eco-design, life cycle analysis, innovation, and sustainable consumption
Team spirit
---
What will your daily routine look like ?
You will integrate our team as a junior consultant to work on client missions and operational development of MAOBI agency.
You will be a part of different eco-innovation, products and services eco-design and life cycle analysis missions for groups or SMEs.
More specifically, you will:
Be in charge of data collection in order to create specific Life Cycle Inventories
Realize competitive benchmarks
Take part in the various steps of a life cycle analysis: methodology and perimeter definition, data collection, modelling (with different software), analysis and recommendations.
Do environmental assessments and identify eco-design levers
Develop eco-design scorecard
Take part in creativity sessions, workshops and creative marathons animation support
---
MAOBI
Based in Lyon, MAOBI is a sustainable innovation agency with a unique blend of marketing and technical expertise. We help brands and companies to turn sustainability into a lever for value creation: from brand strategy to the eco-design of products and services.
Our clients are innovative and eco-responsible big groups (SEB, Danone, Bjorg, Saint Gobain…) and SMEs.
We are a purpose company, 1% for the planet, conduct pro bono projects for an NGO.
---
Application
Internship beginning: February or March 2023
Duration: minimum 6 months
Contract: internship
Please send your application (resume and cover letter) at: marion.lapree@maobi-innovation.com before November the 30st 2022
Discover MAOBI on our website  maobi-innovation.com and follow our news on Linkedin !
La politique d'embauche de MAOBI, vise à améliorer la représentation des personnes handicapées au sein de ses effectifs.